I wondered how Patrick Deuel is doing? Haven't seen anything after his surgery.
Karen B.
---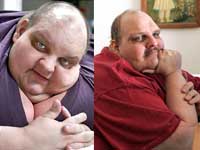 Back in 2005 and 2006, I had written about Patrick Deuel. He used to weigh over 1000 pounds, but eventually lost enough weight to get down to 370.
How is he doing NOW, though? Despite its name, weight loss isn't about weight loss, it's about maintaining a healthy weight. Once you lose weight, you have to keep eating healthy. How is Patrick Deuel doing? Rocky Mountain News did an update back in April:
Patrick Deuel said Tuesday that he hasn't stepped on a scale since last summer, which was the last time he saw his doctor.

Deuel, who once weighed 1,072 pounds, was down to 370 in November. Too many holiday sweets and his attempts to quit smoking have taken a toll since then, he said. He guessed that he now weighs 425.
For all of us, weight isn't a stationary number. It is like the waves and it ebbs and flows with our health, emotional state and physical activity. The important thing is noticing when it is ebbing too close to obesity and working to keep it at a healthy level.
Via: melting mama: Patrick Deuel Rebounds a Bit. (Like the rest of us?)
Previous: Wanna Go Golfing? Part 2 of 4
Next: The Biggest Loser: Never Picked For The Team

3 Responses to "Ask Laura: How Is Patrick Deuel Doing?"
iportion Says:
September 19th, 2007 at 10:53 am

eating disorders are hard to deal with when he feed emotions with food.

JEAN TARVER Says:
September 21st, 2007 at 8:28 am

This is a life long battle Mr. Deuel – never give up!! Congratulations on your success so far.

carol winter Says:
November 25th, 2007 at 8:23 pm

i too have had gastric bypass done. ive been following patrick's case with interest. recently i visited with someone from his area and was told he had been ill and had passed away…please tell me this isn't so.
Leave a Reply
-