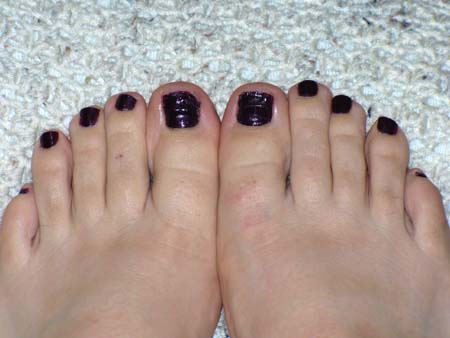 My biggest fear happened a couple of weeks ago. I was so scared how my feet would look when my toenails finally fell off. I knew it would happen because both of them were hanging on by just a thread for so long. When I finally lost them, I was resigned to it.
If I squint, I can't tell that I don't have toenails on my two largest toes. A special thank you to the person who suggested that I just paint the nail bed. It has helped me so much to be able to look down and see what looks like a toenail there. My nails are only half grown back, but they look almost whole.
More importantly, I can run and walk again. I have been building up my mileage. I can do two miles a day and a long walk of four miles once a week. I'll eventually get back up to where I was before, but for now, I'm working up to it slowly.
In the end, black toenail is painful for a couple of weeks, but it's ugly for months. I think the worst part was worrying about how it would look. Now that I know that this is the worst it looks, I'm less scared of getting black toenail in the future.
Previous Entries:
Previous: Question of the Week: Pictures
Next: Welcome Me Back

9 Responses to "Black Toenail: Biggest Fear"
Leave a Reply
-