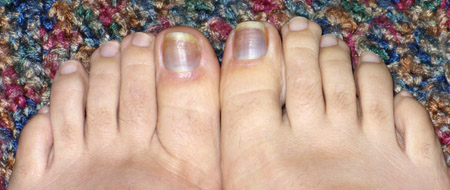 Here is a picture of how my toes look after a week of nurturing. They don't look all that bad. Compared to the pain that I experienced, they look shockingly unharmed. There was one day last week when I couldn't walk without limping they hurt so bad. I was shocked that even putting on socks hurt them so much.
After reading all the recommendations on the Internet about how to deal with black toenail, I cringed at every one of them. They suggested lancing under the toenail with a sterilized needle or even lancing through the nail. I was reluctant to do any of those things. I knew what I was experiencing was a really bad bruise, so I treated it like a bruise and an open wound.
Here is how I treated my black toneails:
Warm water foot baths with epsom salts to reduce the swelling: Since the swelling was so bad that the nail was pushed up at least a quarter inch away from my nail bed, I soaked my feet in warm water with epsom salts.

Alternating with ice packs: After soaking for about ten minutes, I would fill a Ziploc bag with ice and water and place it on my toes (with a towel inbetween for comfort). I read that alternating between warm, moist heat and ice packs reduces swelling. None of the websites recommended this, but it sure helped for me.

Triple Antibiotic: After two or three foot baths/ice packs I would put triple antibiotic on my toenails, around the cuticle area and gently under the nail. Since this was a wound, I wanted to prevent any infection, so I used Neosporin liberally. It may be that just keeping the nail and cuticle area soft with petroleum jelly might have been enough, but I grew up in a family that lived under the motto: Neosporin cures everything.

Most importantly – REST: I stopped running, period. I stopped walking on the treadmill. For two days, I didn't even leave the house and walked as little as possible. Part of the rest was enforced by necessity. My feet hurt too much to do anything, but after they felt better, I forced myself to stay off the treadmill. It was difficult for me, knowing that I could be logging miles, but I did it. When you feel like you could do an easy workout, DON'T. Wait a couple more days to ease yourself back into exercise.
I'm not a doctor and I didn't see a doctor about my toes. I probably should have and if you have black toenail, don't risk infection and pain. Go see a doctor. I definitely wouldn't follow the advice of the websites that tell you to poke at it with a needle that you've held in a lighter for thirty seconds. If your toes are so bad that you feel like they need to have the pressure relieved, have a trained professional do it.
I am easing back into the world of running right now. Wish me luck and you'll be guaranteed that I won't increase my distance drastically like I did before. Over the next few months, I'm working up to six miles a day instead of doing it overnight like I did last month.
Other Entries:
Previous: Welcome to Starling Fitness!
Next: Nike+ Working On Their Website

16 Responses to "How I Treated My Black Toenail"
Leave a Reply
-