If you have been thinking of buying an iPod Nano to exercise with, you're in luck. Apple just remastered the Nano in rainbow colors!
I have been testing the Nike+iPod with a borrowed Nano for a couple of months now. I've been so happy with it, I have been considering buying one of my own. I'm so glad I waited because now I can get one in my favorite color.
The reason the iPod Nano is better for exercising than the Video iPod is because it is made with flash memory instead of a hard drive. The jarring action of running won't damage the Nano like it would the Video iPod (or other hard drive MP3 players). Additionally, no matter how hard you run, it won't skip. That's why Apple created the Nike+ for the Nano only. They didn't want to promote running with the other iPods.
Unlike the old Apple commercials, the new one doesn't feature the white earbuds as prominently. It features the bright colors of the new Nanos. You can see it here: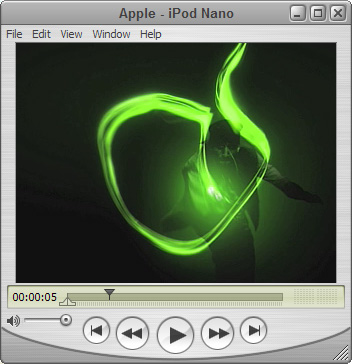 Hey, I wonder if the ear buds come in Lime Green also…
---
Here are some articles explaining the Nike+iPod:
Stay tuned for another review of the Nike+iPod now that I've owned it for a couple of months.
Previous: Subungual Hematoma – Black Toenail
Next: Picky Eater Solution: Just Eat It

7 Responses to "The New iPod Nano"
Leave a Reply
-