V is a freelance architect who wanted to have a healthier life. She saw the treadputer ideas and decided to try it on her own. Documenting her journey (and the cost) she has started her own weblog about the process.
She found a used treadmill on Craigslist for $200 and her bulky CRT monitor didn't work on the shelving, so she has purchased a LCD monitor for only $119. That and a little shelving and she is ready to walk and work.
She has used a monitor splitter so she can work at a desk (work top) if she needs to or work on the treadmill.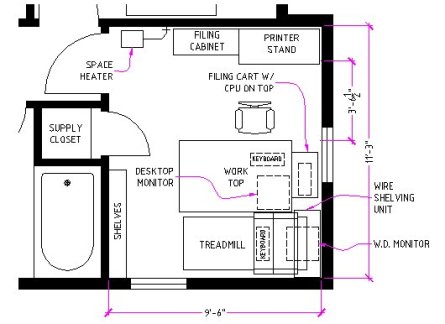 V talks about some of the logistics of walking while working:
"The other thing I've noticed is, when I get focused on something, I tend to forget to walk. It's a good thing this machine has one of those thingies that hooks to your clothes and will pull out and turn off the machine if you get too far away from the console."
I'm interested to see if she is able to draft while walking. Drafting takes a certain precision when using the mouse, so learning to do that while keeping active will be a challenge. If you are considering setting up a treadputer workstation, keep reading her weblog to see how she is able to handle the logistics of working while walking.
Update 08-18-06 12:12 am: Sadly, it looks like V has deleted her weblog.
Previous: Learn To Race Walk
Next: Non-Exercise Activity Thermogenesis (NEAT)

4 Responses to "The Walking Desk Blog"
Leave a Reply
-