I have just finished filming the Sugarhouse Walk Video. Just like the Swami's Beach Walk Video, this is a different kind of exercise video where there is no coach talking or irritating music. It's just a walk around the historic Sugarhouse shopping district and Fairmont Park.
This video is WAY better than the Swami's Beach Video, though. I had some people complain about the video quality and motion sickness on the Swami's Beach Video. Since then, Mike got a new camera and it turns out to be an excellent choice for filming these walking videos. The anti-shake is so good that Mike said, "This video didn't make me sick. I stopped watching it because I got bored."
With a recommendation like that, how could you resist?
This video is almost three minutes long and shows some of the highlights of the video: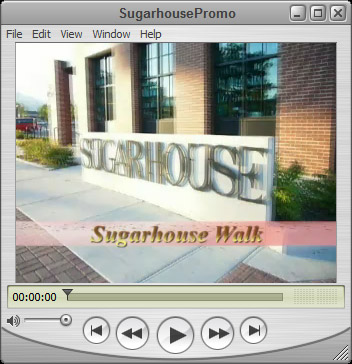 You can see the route I walked here: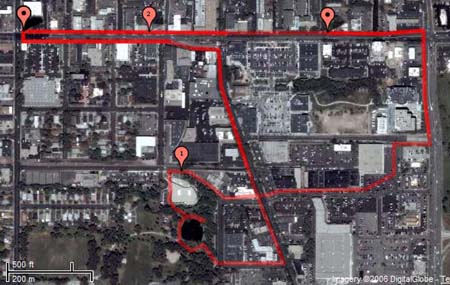 Total Mileage: 2.18 miles
Average Speed: 2.8 mph
Time: 47:00 Minutes
Another great addition to this video is that it has a DVD menu just like a "real" DVD. You can start the video at the beginning, or you can choose your workout duration (47, 40, 35, 30, 25, 20, 15 or 10 minute durations). While you're watching the video, you can skip ahead using your DVD remote.
This time, I tested the video on the treadmill AND the exercise bike before posting it here. It works great with both because I consciously avoided walking on grass or over areas that a bike couldn't go. When I exercised with this video on the exercise bike, it felt like I was riding my bike on a steep incline because I was going so slow. It actually worked for me and I wished that I could steer my handlebars in response to the turns.
Just like before, I'm offering this workout DVD for $5 plus shipping.
Previous: BRAVO Has A New Show: Work Out
Next: Is Soy Really All That Good For You?

2 Responses to "Sugarhouse Walk: Another Walking Video"
missbhavens Says:
July 31st, 2006 at 10:58 pm

well, I'll tell you. I wasn't doing any walking while watching, but it sure was a smooth nausea-free experience!

Donna Wagner Says:
December 20th, 2007 at 7:00 am

I really loved both the examples of the walking videos that you have put together.

I've been looking for something like this for YEARS!!!

I will be getting back with you regarding the purchase of these videos. I think they're just great!

Keep making them. The jiggling just makes them more authentic and realistic to walk to.

Great idea!
Leave a Reply
-