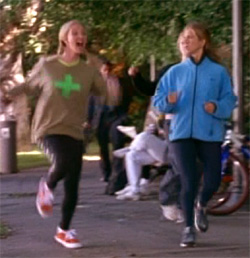 There is an episode of Friends called "The One Where Phoebe Runs." Rachel and Phoebe go for a run together, but Rachel gets embarrassed because Phoebe runs like a little kid with her arms flailing. I love what Phoebe says to Rachel when they argue about it.
"I run like I did when I was a kid because that's the only way it's fun. Didn't you ever run so fast that you thought your legs were going to fall off?"
Rachel is reluctant to try it, but on a run alone one day, she tries running Phoebe's way.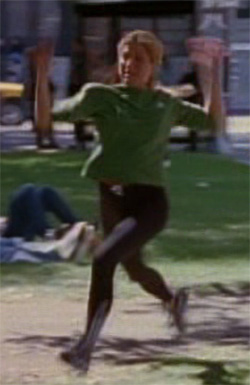 She runs into Phoebe while running and they scream at each other.
Rachel: "I'm so sorry! You were right! This feels great!"

Phoebe: "See? And you don't care if people are staring. It's just for a second 'cause then you're gone!"
I love this episode and whenever I'm feeling bummed out about exercising, I think of it. If I'm huffing and puffing along, sometimes I try running like Phoebe for a second or two. I let my arm fly out and just run as fast as I can like I did when I was a kid. It makes me feel so much better!
Update 02-21-08: I found the video!
---
Friends: Season Six – Disc 2: The One Where Phoebe Runs
Previous: Christopher Lawrence – Subculture, Vol. 01
Next: Feed a Headache

One Response to "The One Where Phoebe Runs"
www.iportion.com Says:
June 14th, 2006 at 7:40 pm

I never seen the episode but sounds like fun.

Val
Leave a Reply
-