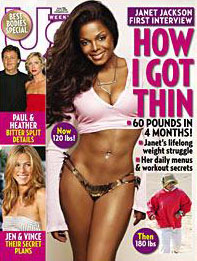 The title on the US Weekly magazine said, "How I Got Thin." Janet Jackson's belly button stared back at me as I picked up the magazine. Do you want to know how Janet Jackson got thin? She ate less and exercised.
That's about all I learned from that article.
Her diet consisted of meals sent to her every day and her exercise consisted of workouts with her trainer. She just did what the experts told her to do without cheating and she lost weight.
I thought to myself, "That's useless advice for those of us who don't have private chefs and personal trainers. What are we supposed to do?"
EXACTLY THE SAME THING.
I just need to do what the experts tell me to do and I'll lose the weight.
Let's face the facts. I KNOW what I need to do. I need to eat less calories than I expend. There are enough tools out there to tell me exactly what I need to eat to lose weight. There are enough websites out there telling me exactly what exercises I need to do. There is little doubt in my mind what I need to do to lose weight.
The hard part is doing what the experts tell me to do.
Getting different experts doesn't help. They are either crackpots or they tell me the exact same thing, over and over. There are no exceptions.
Next time you're feeling jealous of some celebrity because they lost a lot of weight using some expensive plan, remember. You can do it to if you're willing to do exactly what the experts tell you to do.
Update 06-03-07: Janet has kept the weight off for a year. See more here:
I'm pretty inspired by her.
Previous: You Can Eat Anything You Want – Part II
Next: .01 Of A Second

52 Responses to "Janet Jackson Weight Loss"
Leave a Reply
-