If it really works the way the commercial says it works, then Nike and iPod are freakin' geniuses. Seeing this commercial actually made me want to go on a run.
Here's how it works: A $29 sensor is placed in the sensor pocket in the sole of your $100 Nike shoes. The sensor communicates with a receiver that attaches to your iPod. During your run, you are able to check your pace, distance and time of workout using your iPod. They call it the Nike+iPod Sport Kit.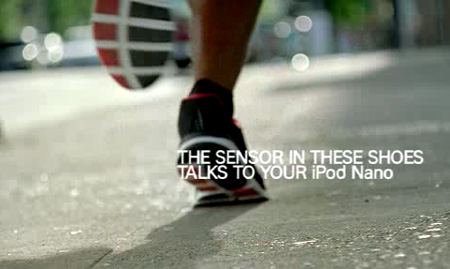 After your run, you can sync your iPod up with your computer, tracking the distance, pace and time of your run.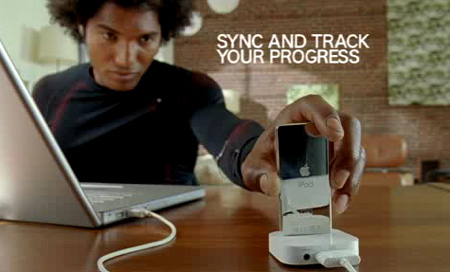 Those are the basics. Their flash website is a little sketchy on the details. Here's what I want to know:
Can I put that sensor in my RYKA shoes? They fit me better, don't give me blisters and don't announce to the world that I spent too much money on my shoes.

Will there be a version of this that I can just tie to the shoe laces of my own running shoes or are you going to force me to buy your shoes to use this?

When I check my time, pace or distance, does it give me the information in audio form like the commercial shows, or is it on the screen of my iPod? Can I turn off the audio if I want to?

When I sync to the computer, will it be with a software program on my computer or is it going to be some stupid web-based thing where I have to be hooked up to Nike's website in order to track my progress? Can I choose?

What is the software like? Is it like that dorky screen animation that the commercial showed or was that just for show? Can I print up my workouts and progress charts?
The Nike website is a little broken. It provides a link where you can pre-order the Air Zoom shoes and iPod Sport Kit, but when I clicked over to pre-order it, the website just said it was currently out of stock and wouldn't allow me to do my pre-order. They dropped the ball on the whole "pre-order" idea.
I really like this idea, but I want more information. For thirty bucks, I was willing to order it basically site unseen, but their website foiled that sale. I guess I'll see it when it actually becomes available.
Via: Reader submission – Matthew Strebe at SlashNOT!
Previous: What's Up With High Fructose Corn Syrup?
Next: You Can Eat Anything You Want

18 Responses to "Tune Your Run With Nike and iPod"
Leave a Reply
-