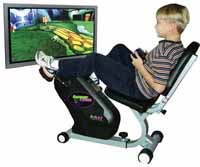 GamerCycle says that it's building healthy kids, but does it really?
They describe how it works here:
"The premise is simple – as long you keep pedaling, the television screen is "ON"… stop pedaling, and the TV screen goes blank. Go from 100% sedentary time to 100% exercise time! Need a break? Hit pause, then resume the game when you are ready."
The first thought that came to my mind was, "They'll just unplug the thing," but GamerCycle has thought about that:
"Video lock box prevents unplugging of the cable from the GamerCycle."
This idea might actually work if you have a child who loves video games or television. If they feel ambivalent toward TV or games, then the extra effort isn't worth it.
This would do nothing for me. I can already play video games while I'm riding my bike on the trainer. What I want is a bicycle that controls the game. Then my performance on the game is dependent on how well I ride the bike. I want to go faster in the game if I turn up the resistance and I want it to feel like real life. I know that's a lot to ask from video games and equipment. I just wonder why none of the big companies are seriously devoting programming and development time to this.
Previous: UltraLife Fitness Goes Underground
Next: Ask Laura: I'm Feeling Cold

7 Responses to "GamerCycle"
Leave a Reply
-