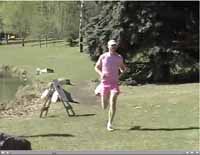 Mark, at A Passion for Running, has fully tested the new running skirts. He has included pictures and a video of him donning the bright pink running skirt and matching jogging bra. Is he insane?
Probably…
More importantly, he did it for charity. Urging his readers to make donations to thier favorite charities, he promised to wear and review the running skirts for everyone's enjoyment.
You can read his review here:
You can see the video of him in the skirt here:
If you would like to purchase a running skirt, you can do so here:
After reading his review, I know that I wouldn't like the running skirt. There is only a panty underneath, so there is nothing to protect my inner thighs from chafing. That's a lot less of an issue now than it used to be, but I'm still very sensitive about my exercise clothing. Mark looks cute, though.
Previous: Watch Out For That Sigh
Next: The First Woman in the NFL

8 Responses to "Running Skirts Tested"
Leave a Reply
-