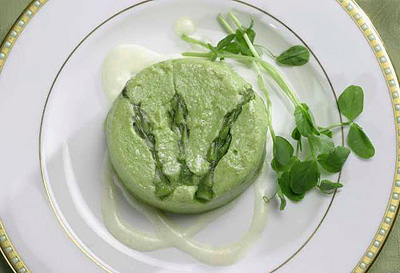 Easter is the end of Lent, meaning that you can eat all the things that you gave up during the Catholic time of denial. What did the L.A. Times reporter find among the Italian communities after 40 days of Lent? Two words: Asparagus Flan.
This dish is made with whole asparagus tips and thick béchamel (thicker and heavier than cream), so this isn't a healthy dish at all, but in moderation, it's an interesting change of pace. I wanted to know if it was sweet or savory, but the review doesn't specify. I thought it was savory until they talked about the sauce,
"For the sauce, I substituted Fontina because it has a more mellow flavor than Parmigiano; it suits the borderline sweetness of the asparagus. But the sauce could be dispensed with altogether, especially if the flan is served as a side dish rather than a first course."
I think it's a savory dish, but with fontina cheese and heavy cream, it should be enjoyed in moderation.
Via: Italian Easter, Vegetables, and Sea Salt – LA Times Food section in 60 seconds – Slashfood