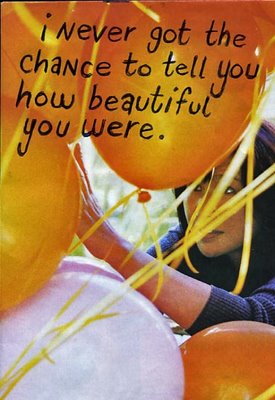 This postcard from PostSecret is for you. There is someone out there who is kicking themselves right now because they never told you how beautiful you are. They wish they had just had the guts to tell you how much they enjoyed the moment when you walked into the door every day. No matter who you are, there was someone in your past who felt like this about you and wasn't brave enough to tell you.
Think about that next time you feel like skipping your workout or bingeing.
---
PostSecret's beneficiary is the National Hopeline Network. It is a 24-hour hotline (1 (800) SUICIDE) for anyone who is thinking about suicide or knows someone who is considering it.
Previous: How NOT To Deal With Plumbing Problems
Next: How To Make Your Pedometer As Fun As A Video Game

One Response to "PostSecret: You Are Beautiful"
You Can Do It ! Says:
May 1st, 2006 at 6:11 am

Thanks I needed that! I will be helping a friend babysit her kids while she is out of town working for the next four days. She has SIX kids from the ages of 1-11 years old. She asked me in away that it should not be a problem for me. I wished that she would of asked and gave me a big hug and said "Thank You So Much, You are such a beautiful person and the kids love you so. I don't know what I would do without you. Thank you so much for using your personal vacation days to do this!" Instead, I got an "OK….See you Monday, thanks"

Hope I do well, plenty of bread and snacks around the house with six kids. My son, 17 years old, is happy that he does not have to come because of school (he hates all the noise and the kids use him as a punching bag. Plenty of room for tension, stress, and bingeing. Wish me luck!
Leave a Reply
-