I wondered what was going through the heads at Visa's advertising firm when I saw this commercial. When I linked to this site, there was a great ad about what life takes.
When I clicked on Life Takes Determination, however, I was shocked by what I saw.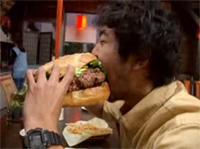 I saw a 15 second commercial devoted to gluttony. If Visa thinks that THIS is determination, they have NEVER fought with weight loss. What were they thinking?
When I think of the last four years and how hard I have worked to lose and maintain a healthy weight, I want to scream at the fool who thought wolfing down a huge hamburger takes determination. Determination is eating healthy, even when people are shoving food in your face. Determination has NOTHING to do with inhaling a four-pound hamburger.
Previous: Prosciutto and Melon
Next: Week 12 Evaluation of Eyetoy:Kinetic

8 Responses to "Life Takes Determination"
-