The Olympics provided us with a lot of inspiration for physical activity, here is an inspirational story about a competitor who turned to skiing instead of other ways of dealing with hard times.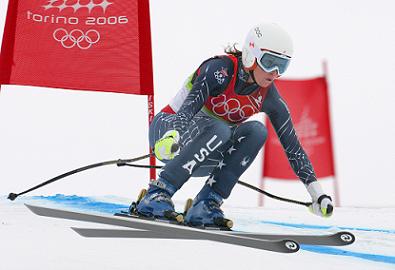 United States Olympic skiier, Julia Mancuso, had a childhood that was difficult. Her father was accused of crimes and even spent time in jail. Skiing was Julia's way of coping with it.
From 1989 until his guilty plea six years later, the family lived under a legal cloud. For Julia, who was on skis by age 2, the sport was her passion and perhaps an escape. She was racing by age 8.

"Looking back now, it's just times when maybe skiing was the only thing for me to do," she said. "I just spent most of my time on the hill with my two sisters, chasing them around."
Next time you're tempted to turn to food when you're having an emotional time, think about Julia Mancuso. Instead of turning to food, she relied on skiing to keep her healthy and help her beyond the stressful times in her life. Find something athletic that you can do to keep you healthy in times of stress.
Previous: Low Blood Sugar
Next: Diet Book Review Week

One Response to "Use Athletics To Deal With Stress"
Sparky Says:
March 11th, 2006 at 6:33 am

As a matter of fact, any kind of sports activity is the best solution against stress. I used to go home in my 1-hour breaks at work and do a 25min stretching exercises. It's unbelievable how relaxed and, sort of,… happy you feel afterwards.

This kept me from not turning crazy during the one of the hardest times in my life! 🙂
Leave a Reply
-