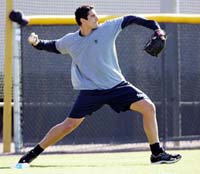 There is a foot of snow on the ground, but last week, baseball players reported for Spring Training.
The World Series ended only 112 days ago and now the pitchers and catchers are back in training in Florida and Arizona. Baseball is a year-round sport for professional athletes.
What if we considered ourselves athletes? They are always in training or competition. They don't take days off when it rains, they find some other way to keep in shape. Their career depends on keeping fit, so they take it seriously. What if we were to take our own physical fitness as seriously?
Next time you're thinking of skipping a workout because it's snowing or because you're running a little late, remember those baseball players working all year long just to give you a good show when you pay for a ticket at the stadium. If they can throw a baseball all year long, then you can figure out a way to fit a workout into your day.
As of today, consider yourself a professional athlete and act like one.