I found this comic from The Boondocks funny last Sunday.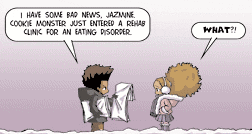 It reminds me of my entry about Cookie Monster on Sesame Street telling kids that cookies are only a sometimes food.
I guess that was like David Crosby on those "Say No To Drugs" commercials.
Previous: Solo Bike Ride Around the World
Next: The Starling Fitness Word Cloud

2 Responses to "Cookie Monster Eating Disorder"
Sarabeth Says:
February 24th, 2006 at 7:13 am

Can I blame Cookie Monster for my own cookie problem? If there is one food that I just cannot say "no" to and that I will gorge on it is cookies. I actually do not keep them in the house, even for my kids, because I will eat them all.

Angela Says:
February 24th, 2006 at 2:52 pm

If you have a problem binging on cookies, bake them yourself and add more healthful ingredients like oats, whole wheat flour and less sugar or a substitute. At least that way they are more nutritious then just your run of the mill store bought cookies. Plus, if you vow only to bake them and not to purchase from the store you will have down days without cookies when you do not have time or energy to bake. My entire family are cookie monsters!!
Leave a Reply
-