Sonya Thomas recently won the World Grilled Cheese Eating Championship by eating 26 grilled cheese sandwiches in ten minutes. I am always amazed at eating competitions and wonder why they exist at all. Her website says she is a #1 ranked eater with 27 competition titles.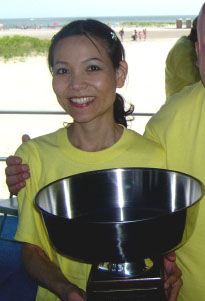 How can such a thin little woman be a #1 ranked eater? It makes no sense to me, but obviously she gets these questions a lot because she has answered them on her website:
HOW DO YOU PREPARE FOR CONTESTS? I often do not train at all, but if I am totally unfamiliar with the kind of food I will be eating, I will sometimes practice my speed for 1 or 2 minutes–no more. (It's not healthy to consistently eat large amounts of food in a very small amount of time.) Once I set a pace, I can usually keep it up for however long the contest is; the stomach capacity is always there.

IS EXERCISE A PART OF YOUR TRAINING REGIMEN? I do aerobic exercise up to 2 hours a day, 5 days per week. I'm also very physically active on my job–little sitting down or standing around–which helps keep my metabolism "revved up."

HOW LONG DOES IT TAKE YOUR BODY TO RECOVER AFTER A CONTEST? I guess I'm fortunate in that my body will have digested what I eat within 8 to 12 hours. By the next day–or late that same day–I'm usually "good to go."

WHAT DOES YOUR DAILY DIET CONSIST OF? I eat lots of healthy foods–lots of fruits, vegetables, rice, seafood, and chicken–not too much fried food. I sometimes enjoy sweets, but only in moderation.

HOW CAN YOU STAY SO THIN? YOU EAT SO MUCH FOOD IN COMPETITION. These competitions and eating events occur but once or twice a month. They are the exception–not the rule.

DO YOU ADVOCATE A SPECIFIC DIET LIKE ATKINS OR SOUTH BEACH? Not really. Each person is different and it is important to find out what works for you. But remember, if you take in more calories than you burn, you gain weight–it's that simple.
Just like everything else, eating healthy is a daily routine. Even competitive eaters eat healthy every day. Those orgies of gorging are rare exceptions to their normal routine. Next time you see a competitive eating event flash by on ESPN2, remind yourself that those competitors don't eat like that every day. It's a rare event for them.
Via: Woman downs 26 grilled cheese sandwiches – By Associated Press
Previous: Kellogg Is 100 Years Old
Next: How to Eat Less Candy

One Response to "Sonya Thomas: Competitive Eating Champion"
asia Says:
March 3rd, 2006 at 2:37 pm

your a beast girl! how do u do it!?
Leave a Reply
-