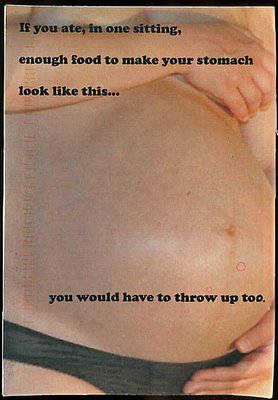 I never was able to do the purging after binges. I think that might have prevented me from eating as much. This postcard from PostSecret gives me a glimpse of what it would feel like if I had been able to make myself throw up.
I think this is a picture of a pregnant woman, but I am familiar with the feeling after a binge that makes your stomach feel bloated. There were times when all I could do was lay down after the binge. I am able to complete so much more in my life now that I'm not as obsessed with food. I wasted so much time lying on the bed when I could have been writing. I almost resent those bingeing years from stealing my life away from me.
---
PostSecret's beneficiary is the National Hopeline Network. It is a 24-hour hotline (1 (800) SUICIDE) for anyone who is thinking about suicide or knows someone who is considering it.
Previous: Half of Me Wants To Eat Everything
Next: 'Obesity Epidemic' Overblown

2 Responses to "PostSecret: Throw Up"
a teenager Says:
February 25th, 2008 at 7:17 pm

I am so happy and proud to hear someone that has given up the bulimic/bingeing lifestyle. So many people in our world see the 20 year old, 98 pound models and want to be like them, it's refreshing to hear a person that has given up trying to be like some beautiful women that unfortunately have serious diseases. Thankyou so much. You give me hope in this community. If you are still struggling with this, please do not stop trying. It's worth so much that you even realize that that is not a good choice.

teenage girl Says:
April 11th, 2009 at 2:21 pm

this says it all :/
Leave a Reply
-