"Half of me want to lose the weight, but the other half wants to eat whatever I want whenever I want it."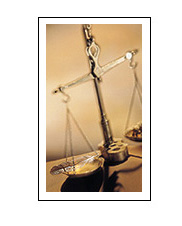 Have you ever felt like that? It feels like there are two people within you raging a war against each other. When I feel like this, I feel powerless against either one of them and I thought I just had to wait to see who was the strongest. Ever since January 2002, the half that wants to be at a healthy weight has won out, but there were some scary battles there for a while.
I've just recently found out that I don't need to sit around and wait to see who wins the battle. I can affect things for the better and give the half of me that wants to be at a healthy weight a huge club to beat on my other half.
When half of me wants to be healthy and half of me wants to eat, I've found that something strange is going on in my life. I have started "weighing" things. Weighing health against cream cheese brownies. Or maybe I'm weighing the feeling of fitting into Seven Jeans against the "freedom" to eat whatever I see. When I am thinking like this, I need to tip the scales back to the health side and it usually takes a couple of things to do it.
Kill the Deprivation: If I'm feeling deprived of cream cheese brownies, I need to find a way to work them into my diet. It usually only takes one or two servings spaced out over a couple days to kill the feeling of deprivation. If you find that you have been weighing your health against any food, it's time to find a way to work it into your diet.

Conquer the Boredom: I also find that I get into ruts. I find foods that are low in calories that taste good and fulfill my health needs and I eat them every day… for months. The last time this happened to me it was fresh, cut veggies. I was having all my vegetables in the form of fresh and raw vegetables. When I started adding cooked broccoli and vegetable soup to my diet instead of the raw veggies, I found that it was easier to enjoy my food. I'm sure you have found the perfect snacks to keep you satisfied, but if you eat them every day for months, you WILL get bored of them and this eating healthy thing will start feeling yucky.

Feed My Head: Sometimes I forget why I eat healthy. It helps to go back and look at my old pictures to remember how hard it was to be fat. It also helps to read the newest health and fitness information. If I feed my head with images of healthy people and ideas for exercise, eating and health, it's a lot easier to keep on track.
It takes all three of these things to tip the scales back for me. I've found that if I just do one or two of them, it's not enough to tip the scales where they need to be. I need to bombard myself with all three techniques to get back on track. Give it a try and see if it's a big enough club to beat into submission the half of you that wants to eat everything.
Previous: I Know You Will
Next: PostSecret: Throw Up

8 Responses to "Half of Me Wants To Eat Everything"
Leave a Reply
-