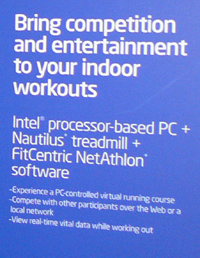 The final fitness gadget we found at CES was the NetAthlon software from FitCentric. They were demonstrating their product with a Nautilus treadmill as part of Intel's booth. FitCentric also worked in conjunction with TacX on the software for their bicycle trainer. The software that FitCentric was demonstrating was much more basic than the TacX software. As you can see from the screen shot, the graphics are much more blocky and simplistic.
Despite the simple computer animation, the software did make running on the treadmill a little more compelling. The software places you on a track with several other runners. You can try to catch up to the ones ahead of you or slow down and run at whatever pace you decide.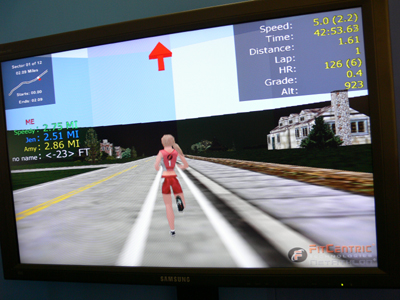 The software was controlled by the settings on the treadmill. When I approached the treadmill, the Intel employee had it on a slow setting. The woman on the computer screen was walking on the track. You could see houses slowly go by.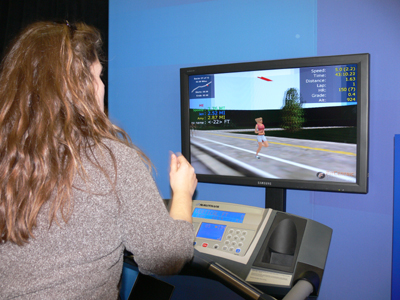 When I got on the treadmill, I brought it up to running speed and the woman on the screen started running. The scenery moved past quickly. I really liked the idea of catching up to other people on the track and overtaking them. Something about that element of the game really appealed to me.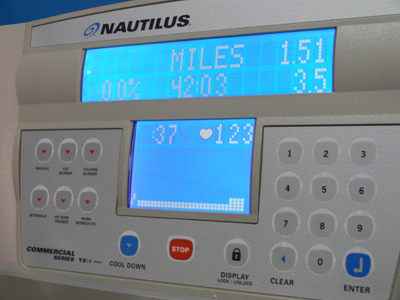 One strange thing that happened was the Nautilus treadmill was able to read the sensor from my Nike heart rate monitor. It displayed the correct heart rate on its dashboard. As you can see this is my heart rate when I first started running. Within seconds, I was up to 159 bpm testing the game. I already knew that running on a treadmill gives me a great workout, but the software was really inspiring. It didn't convince me I was running a real race, but it was an interesting change of pace.
You can download the FitCentric software for a 10-Day Trial on their website. They have a selection of machines that their software works with. They also say that they have a "Wireless Retrofit" for bicycle trainers (such as my CycleOps trainer), but when I tried to purchase it, there was no way to buy it on their website. I sent them an email regarding this oversight and I received an email back saying that it's not available yet. Since the website said, "Coming in 2005" and it's still not available, I don't think I'll hold my breath. If you're lucky enough to own one of the treadmills or stationary bikes that work with this software (see the list of Compatible Fitness Machines here), then FitCentric is a great deal at $99.95.
Click here to see the Fitcentric Website:
Update 01-23-06: Their website says that their software, NetAthlon, might work with iFit machines, but after fighting with my free download and my NordicTrack treadmill, it looks like it will not work. I'm going back to using i2Workout. It has been great!
Previous: CES: Journey to the Wild Divine
Next: CES: Wrap Up

Leave a Reply
-