I am attending CES (the Consumer Electronics Show) in Las Vegas, Nevada. I will be reporting on the health and fitness gadgets I come across during the show.

I've talked about GameRunner before on Starling Fitness:
Back then, the picture looked like a drawing and I couldn't find any information that it actually existed. My evaluation of it back then was that it looked like a cheap treadmill hooked up to a controller. It gave me fantasies of hacking a thrift store reject and a Xbox controller.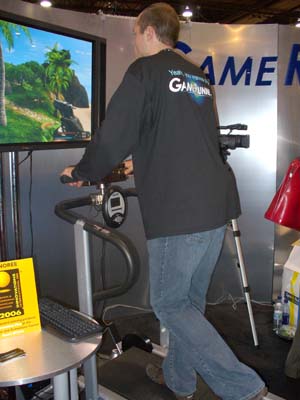 My evaluation of the strength of the treadmill is about the same as it was before, but more importantly, this controller didn't seem like it would get my heart rate up unless I played a racing game. They were demonstrating it with a first person shooter game. They only needed to walk on the treadmill when the character needed to walk. First person shooter games consist of a lot of hiding and shooting. I watched the employees of GameRunner play for quite a while and not once did they even break into a run. This might be better than sitting on the couch and playing, but just barely.
GameRunner gets my positive approval, though. It's over a year since my Exercise Gaming entry and so many of the companies are out of business. GameRunner is still around and they had a strong showing at this show. I hope they are successful and are able to create a product with a treadmill that looks a little more sturdy.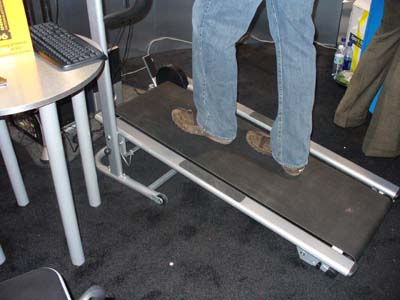 My biggest concern with this product is that it's for PC only. I do all my gaming on console games, so I have no use for this product. It would be nice if there was an adapter that would let it work on Xbox and PlayStation. That might be their next iteration of this product, which might make this controller useful. Can you imagine playing Project Gotham 3 with that thing?
Click Here for the GameRunner Website:
Previous: CES: ArcadeMX
Next: CES: XaviX Console System

4 Responses to "CES: GameRunner"
-