I am attending CES (the Consumer Electronics Show) in Las Vegas, Nevada. I will be reporting on the health and fitness gadgets I come across during the show.

ArcadeMX wins my award for favorite product that I can't buy yet.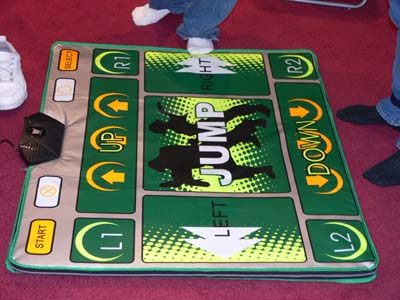 The product is called BodyForce and it is another controller for game consoles. They are planning on releasing units that work with PlayStation 2, Xbox and the PC (using USB). This controller made me want to bribe the guy at the booth to sell me one.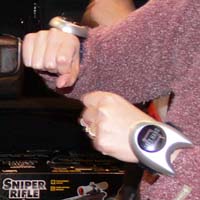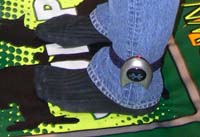 The controller is a five-piece set: the game pad, two hand controls and two feet controls. They were very easy to put on my wrists and ankles with the velcro attachments.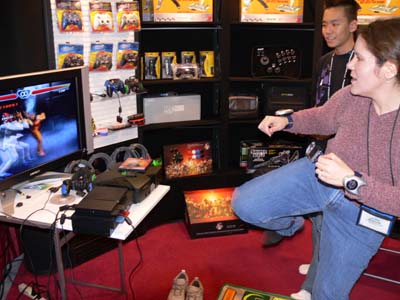 I have never liked fighting games, but playing with this controller suddenly turned me into a kickboxing fool. The table holding the Xbox and PlayStation 2 was so close that I almost kicked it. I accidentally kicked the game box off the top of the table, sending it flying, much to my embarrassment. Fortunately, no gaming consoles were harmed in the testing of this controller.
While I was kicking and punching, I suddenly realized that there are probably about twenty games that I could purchase that would work with this controller. We were playing Tekken, but there is Street Fighter, DOA and those Namco collections. I imagined all the different games I could play with this controller and even tried to visualize how I could play Harry Potter and The Goblet of Fire with this thing.
When I was playing, I had to throw the punches really hard to make them register. The same was true with the kicks. I was so excited that I forgot to check my heart rate monitor while I was playing, but I didn't really play long enough to see if it would give me a good workout. Considering how hard I had to kick, though, I'm sure it would have gotten me up in the high intensity range very quickly.
ArcadeMX had a small booth in the International section of CES. The presenter was adorable. He was trying to explain the exercise benefits of this controller,
"It's for health."
Yeah, he's right. This game controller could easily be a great workout. The only problem is that it's not available yet. They had several boxes of the product at the booth, but he was unwilling to sell me one. I asked if they were available online and he said that they do have a website, but it's not available yet. He wasn't even able to give me a date when it would be available. I gave him my business card and told him I was VERY interested as soon as they were available for purchase.
Click Here for the ArcadeMX Website:
Previous: CES: PowerGrid Fitness
Next: CES: GameRunner

Leave a Reply
-