When I started exercising, I was walking and running outdoors on sidewalks and roads. I had incredible pain in my shins (the muscle on the lower front of my leg). I also had pain under my feet in the arch. I actually went to a podiatrist, who wrapped my foot and told me to ice it regularly. It didn't help.
The pain would go away when I stopped exercising for a week or so, but would come back every time I'd start again. I was really frustrated because the doctor wasn't any help and every article that I read about this kind of pain gave me the following useless advice:
Stretch: They'd tell me to stretch, but didn't tell me how.
Ice: Ice helps reduce the swelling when you're injured, but what I really needed was to learn how not to get injured in the first place.
Change the Type of Exercise: I was really poor and the only options available to me at the time were walking and running. Both hurt me.
Wrap It: The doctor showed me how to wrap my foot, but it didn't prevent me from injuring myself.
Rest: Yeah, rest works, but EVERY time I started up again, the pain came back.
Lose Weight: A lot of the articles told me to lose weight because extra poundage caused problems. I remember reading that thinking, "No kidding? Why do you think I'm running and walking in the first place!"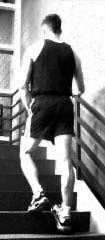 Finally, Runner's World had a small, tiny article that was an "Ask the Doctor" type of thing. It was so small I could have missed it, but luckily, I found it. The space was limited, so the doctor answered the shin splint question with ONE stretch that I could do to solve the problem. That and a recommendation to see a doctor was all the article contained. Not even a picture.
After following the directions for a week, I noticed a definite improvement in that foot and my shins. Now, I swear by this stretch. I do it before and after every run, walk and especially if I'm playing Dance Dance Revolution. This website has a description of the stretch:
My additional thoughts:
Lower your heel over the edge of a step and lift your toes.
Make sure you hold onto something so that you don't slip and hurt yourself.
Lowering your foot stretches your calf muscle and lifting your toe stretches your shin.
You can bend the knee of the stretching leg and it will deepen the stretch.
Hold the stretch for 20 seconds on each leg.
Be careful. DO NOT bounce! It's really easy to lose your balance on the step and REALLY hurt yourself.
Previous: Food Porn
Next: Keep Moving

4 Responses to "Shin Splints"
Leave a Reply
-