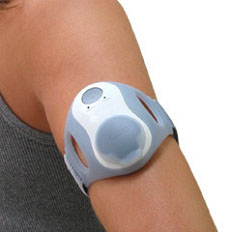 This product says that it can predict your calorie expenditure with 92% accuracy. It uses sensors that measure motion, skin temperature, skin resistivity and ambient temperature. It communicates with software on your PC to calculate your calorie expenditure.
I have two problems with this gadget. The first is the price. The unit is $500 and it requires an ongoing subscription to the Bodybugg web service. I don't know if it's worth that much money to get 92% accuracy when I can get pretty close just by keeping track of my physical activity. Their own abstracts state the following:
[Physical activity records] can provide a great deal of detail on the types of physical activities engaged in along with the individual's pattern of participation (Leenders, 2001, Weston 1997).
Their only problem with this method of calculating calorie expenditure is the time it takes to collect the data:
While these measurement tools are quite inexpensive, there is a significant cost disadvantage in that many are manpower intensive requiring personnel to gather and analyze the data generated. In the case of computer logs, participants must have a computer and be computer literate.
This Bodybugg sensor only works with a computer (a very expensive web-based computer system that requires an ongoing fee), so the Bodybugg doesn't solve that problem.
The second problem that I have with this system is that all the abstracts and studies that were done on this program were with an armband system that worked in conjunction with a heart rate monitor. The Bodybugg doesn't have any heart rate monitoring capabilities, so it doesn't really have a proven accuracy rate of 92%. The mechanism that they tested is different than the one that they are selling.
In the end, a piece of paper where you write down what exercise you did all day is almost as good and over $500 cheaper.
Via: Hautegear – Wearable weight manager
Update 09-26-07: The television show, The Biggest Loser, features this product. All of the contestants are wearing them on their arms. Still seems more expensive than a heart rate monitor and a pad of paper.
Previous: Tuna Mac & Cheese with Broccoli
Next: SLIMist: Follow the diet plan and smell the real thing instead

83 Responses to "Bodybugg – Weight Management On Your Arm"
Leave a Reply
-