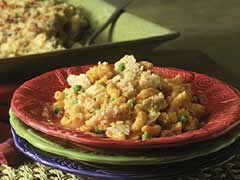 Wednesday night, Mike and I had a dinner that we used to eat all the time, but we haven't had recently. It tasted good and it was only 6 Points. I thought that I would share the recipe with you.
Tuna Mac & Cheese with Broccoli
Kraft Macaroni and Cheese (you can use whatever brand you wish, but the calculated calories are based on Kraft)
4 Tablespoons of butter
1/4 Cup of Skim Milk
1/2 Bag of frozen broccoli
1 Can of tuna packed in water
Directions:
Bring 6 cups of water to a boil. Add the macaroni and the broccoli to the boiling water.
Cook until tender, drain water (do not rinse) and return the macaroni and broccoli to the pot.
Add the butter and stir until melted.
Add the milk, tuna fish and the cheese packet and stir.
Divide into five servings and place the extra servings in the freezer.
Serves 5: 6 WW Points per serving: Calories 258; Fat 11.3; Fiber 0.6
Macaroni and Cheese is a highly processed food (that is NOT cheese), so this meal is a rarity for us, but it is very easy to make. You can substitute whatever vegetable you prefer for the broccoli. I suggest separating the servings and freezing the extra right away to prevent over eating. This meal is high in fat, so it's easy to overdo it. I take the extra servings to work for lunches.
Previous: The Freshman Fifteen
Next: Bodybugg – Weight Management On Your Arm

2 Responses to "Tuna Mac & Cheese with Broccoli"
Mark Says:
September 10th, 2005 at 5:07 am

You can make macaroni & cheese from scratch. I've made Mark Bittman's recipe a few times (from "How to Cook Everything"). It's pretty good.

I notice that someone's webbed the recipe here (from "The Basics" book, but it's the same ingredients and virtually the same instructions):

http://www.thegoodcook.com/doc/fullsiteenrollment/detail/fseproductdetailplus.jhtml?repositoryId=073572B109&sectionname=Recipe

In the version in the full book, he describes it as "macaroni and cheese for grown-ups … fragrant and almost sharp, thanks to the bay leaves and Parmesan."

Christa Says:
February 8th, 2009 at 2:09 pm

I substituted chicken broth for the milk, since I didn't have any milk in the house. Was awesome! Less fat/calories, and brought the flavor to a whole new level.
Leave a Reply
-