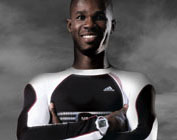 Polar and adidas are teaming up to create a new line of integrated clothing. The adiStar Fusion shoes have the stride sensor, which communicates with the Polar wrist computer (it's NOT a watch), which also communicates with the pulse sensor on the clothing. The pulse sensor snaps into the clothing so that you don't have to wear a separate chest strap for the heart rate monitor.
Here's the press release from adidas about the new product:
Personally, I don't see the benefit of having a heart rate monitor that snaps into my very expensive shirt over wearing a chest strap and a cheap tank top. I also don't trust the stride monitor to accurately calculate my speed and distance. I'm certainly not willing to spend $680 for a pair of running shoes (which may not work with my feet), one shirt, a heart rate monitor and a watch, excuse me, wrist computer.
I recommend the running shoes that work best on you, a cheap heart rate monitor (you can get them for as little as $30) and the Google Online Pedometer.
Via:
Previous: 21 Days to Better Running
Next: Strengthcast – Virgil Aponte

Leave a Reply
-