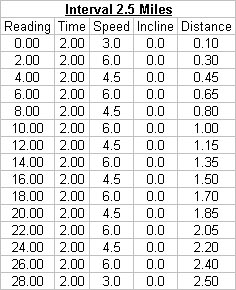 Sometimes I make time fly on the treadmill by changing the speed or incline every couple of minutes. Other times I want to finish a certain distance within the time that I have to exercise. The way that I have done this in the past is to use Microsoft Excel (a spreadsheet program) to calculate how fast for how long I would have to go to complete the distance that I want.
Download this Treadmill Spreadsheet if you'd like to try it.
There are a total of 9 workouts. All of them are 30 minutes long including a warm up and cool down of two minutes apiece. Since my treadmill starts the timer at zero and counts up, the "Reading" column is what the treadmill should read when I change the incline or speed. I used these workouts when I was training for a 5K last year and I found them helpful.
When I read Runner's World, they would always talk about Interval workouts or Hill workouts, but they would never talk in specifics. They would say things like "Run at 70% of your 5K speed," which really didn't help me. I wanted to know the specific MPH to set the treadmill to and when to change it. I ended up making my own treadmill workouts using this spreadsheet.
You may be more of a beginner or more advanced than these workouts, but they could still be helpful to you. The formulas will still calculate the distance, if you change the speed. Play with it a little bit and you can make this work for you. I hope you find it as helpful as I have.
Previous: Pump It Up Exceed
Next: When the Scale Says You've Gained

30 Responses to "Treadmill Workout Spreadsheet"
Leave a Reply
-