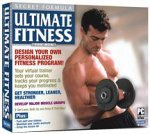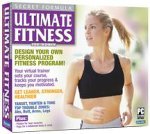 I was browsing at Best Buy and came across Secret Formula: Ultimate Fitness for Men. It led me to believe that there might be an Ultimate Fitness for Women, but I couldn't find it in the store. At first glance, it looked like a cool thing. It has 130 strength training exercises, 45 cardio exercises and 115 video clips. It runs you through a personal assessment, then you can customize your fitness program and track your results. It looked pretty cool until I started comparing it to Yourself! Fitness and what Maya does for me.
Just like Secret Formula, Maya does a personal assessment, except she has you input the number of certain exercises that you can complete. There is no option for growth when you can do the maximum number of exercises, but Secret Formula only asked for height and weight information. It did ask about activity level, but there was no formal test.
Now, as far as customizing your fitness program, Maya takes care of all of that and you have little control other than choosing your focus (Cardio, Upper Body, Core, Lower Body or Flexibility). Secret Formula lets you choose your exercises and even lets you print them up to take to the gym. It's kind of difficult to pick and choose your exercises, but it has a lot more flexibility than you have with Yourself! Fitness. Unfortunately, it prints them up in alphabetical order, which is not the best order for exercising. It would have been better if it printed them up by muscle group.
Comparing the number of exercises is a little difficult. Maya has access to over 500 exercises, but the strength training, cardio and flexibility exercises are all included in that figure. The video clips are no comparison, though. Maya recreates ALL of her exercises for you in real time so you can follow along. You don't have to watch the little video and hope you remember proper form when you get to the gym.
Tracking your results is sketchy with Yourself! Fitness. The only measure of progress that you have is your completion of the Physical Challenge. Every 10 workouts, Maya tests you just as she did when she did the initial personal assessment. You only show progress if you can do more of each exercise than you did before. I am not the bastion of fitness, yet I was able to do the maximum number of crunches and squats. There is no accounting for how many workouts you have completed or how well you did them. With Secret Formula, you can at least keep track of what you did and how much of each exercise. Additionally, Yourself! Fitness has no way to account for exercising that you did without using it (such as running on the treadmill or playing DDR), whereas Secret Formula keeps track of all of that.
The whole aspect of using Secret Formula with the gym, however, is the thing that makes Yourself! Fitness hands down better. You don't need to go to the gym. You can follow along with Maya in real time in the privacy of your own home. You don't need to write anything down. You don't need to print anything up. You just put in the disc and exercise with her, which makes much more sense for something on your computer. Since you can't take your computer to the gym, Secret Formula is no better than a book. In fact, a book, like Weight Training for Dummies, would actually be better because you could just bring it with you and read each exercise before trying it.
In the end, Yourself! Fitness is similarly priced and far more useful. Now that it's available for Playstation 2, it is accessible to far more people. Give Maya a try and don't waste your money on Secret Formula.
Previous: Treadmill Test
Next: Have a Healthy Valentine's Day

Leave a Reply
-