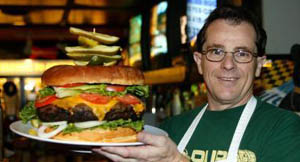 I'll never forget the scene in the book, Thinner Than Thou, in which the teenager on the road, searching for his anorexic sister eats three huge steak meals. He "wins" the free meals and prize money, which helps them survive until they can find her. Afterward, their friend drives along the Interstate Highway disgusted and amazed at what he saw.
Once again, I am amazed and disgusted by real life. It's all over the news, the six-pound Ye Old 96er has been conquered by a 100-pound woman. She ate the whole thing in less than three hours. I feel like I should say something about it, but I'm sitting at the keyboard, numb.
I know I could have done it. When I was at my top weight, I regularly ate huge meals without pain or even thought. They seemed like normal meals to me. Now, I look at that burger and wonder if I could finish a quarter of it. If cut into fourths, that would still be a 1.5 pound burger. I don't know if I could finish even that much now.
This whole thing just leaves me bewildered. What's so great about eating a huge hamburger? Why is this considered something worthy of a t-shirt, prizes and a free meal? Why am I so morbidly fascinated by it?
Part of me wants to try it. I want to go to that pub in Pennsylvania and try to eat the burger. Just looking at it makes me hungry. I have been eating healthy for months and I still crave greasy and unhealthy food. They say your tastes change, but part of me wants to tackle that burger, or at least share it with three of my closest friends.
Part of me is disgusted by it. I had a hamburger last week and I was sick for the rest of the day. Sick and disappointed because I had spent so much of my daily allowance on one meal. I ate healthy the rest of the day and it's possible to eat a burger every once and awhile without hurting my health. I'm no worse for the wear, but part of me looks at that burger and wonders in amazement at anyone stupid enough to eat the whole thing.
Part of me says, "Gimme!" and another part of me says, "Why?" I hate it when I think two mutually exclusive thoughts at the same time. It's called cognitive dissonance and it means that I'm in the process of learning something. I guess I'm learning that bingeing on large quantities of food is detrimental to my health and maybe even disgusting.
There is a part of me, however, that is still desperately clinging to the actions of the past. I can hear it whispering to me, "I could eat that. It might take me more than three hours, but I could eat that whole thing in a day." It looks at the pictures and says, "Look at all that cheese melted on top." It lies to me, "It has been SO LONG since I've had a hamburger." I vividly remember the taste of the burger from last Sunday "repeating" on me, yet I almost believe the lies. A day afterward, my stomach still groaned at the high fat, yet I can hear the voice, trying to tempt me.
When? When will I be fully free of it? When will I only crave healthy food and look upon monstrosities like a six-pound burger as they truly are? Maybe I will always be tempted by large quantities of fatty food and I will never be free.
I remember a scene from the movie, The Sure Thing, where John Cusack offers his cheese krispies to the very strange couple in the car, driving to California. The couple sang show tunes. They were appalled at Daphne Zuniga's breasts. They were disgusted by the cheese krispies and beer breakfast. Something about me doesn't want to be like that nerdy couple. I don't want to be the kind of person that turns her nose up at food, even when it hurts my stomach.
It's completely illogical, yet that's how I feel. For some reason, I don't want to be the kind of person who looks at a burger and says, "That's disgusting!" Even if it's a six-pound burger meant to be consumed in three hours. I guess noticing the problem is the first step, so here it is. I'm an illogical human who can believe two contradictory things at once.
Previous: Sleep More, Lose More
Next: Kettlebells

9 Responses to "Denny's Beer Barrel Pub Challenge"
Leave a Reply
-