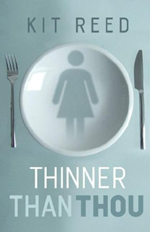 They were playing poker in their tent. I felt like I should be playing with them, but I just couldn't bring myself to get interested in the game. Instead, I read the book I brought along.
"I hate this future."
Stacey and Dan looked at me with confused faces.
"I don't like the future that this book has set up. It's too depressing."
They were still confused, so I tried explaining more.
"In this book, being thin is like a religion. It's against the law to be fat."
"That's not a diet book?" I don't remember who asked me.
"No. It's sci-fi and I hate this future."
"We thought you were reading a diet book or maybe a non-fiction book about the diet industry."
It was then that I realized that I was already living in the future that I hated.