I found this motivational poster in a magazine, but I can't remember where I got it.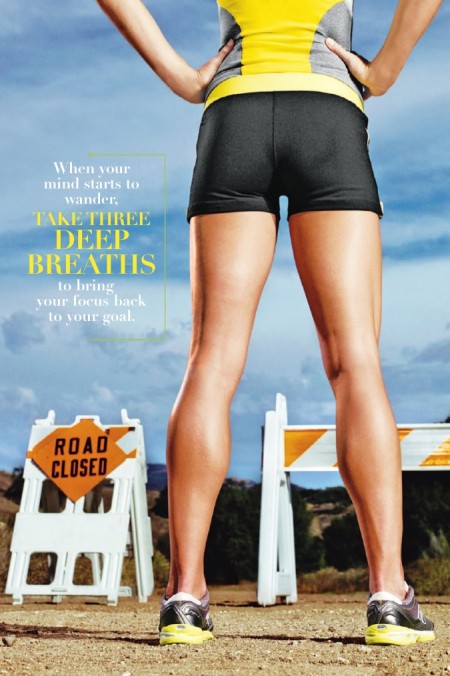 It reads:
When you mind starts to wander, take three deep breaths to bring your focus back to your goal.
The truth is, that never helped me. Deep breathing is something everyone said that I should do when I was angry and it never once helped me to calm down and certainly never stopped me from bingeing.
It's recommended so often, however, that I suspect that it must work for some people. Deep breathing exercises were first proposed as healthy by Dr. Herbert Benson in the 1970s. He had researched the benefits of meditation on the brain and suggested that deep breathing is what caused the relaxation response.
Meditation HAS helped me to relax and when I do it every day, I don't binge as much. I like the recommendations from this site about it: Harvard Health Publications: Relaxation techniques: Breath control helps quell errant stress response
Choose a special place where you can sit (or lie down) comfortably and quietly.
Don't try too hard. That may just cause you to tense up.
Don't be too passive, either. The key to eliciting the relaxation response lies in shifting your focus from stressors to deeper, calmer rhythms — and having a focal point is essential.
Try to practice once or twice a day, always at the same time, in order to enhance the sense of ritual and establish a habit.
Try to practice at least 10–20 minutes each day.
Putting fifteen minutes of meditation on the top of my priority list every day has helped me tremendously, but I don't do deep breathing during the meditations. Maybe there is something to this motivational poster, so I hope it helps you.
Previous: I'm So Hungry!!
Next: When You Can't Run, Crawl.

Leave a Reply
-