I love this quote and motivational poster from Wake Up World: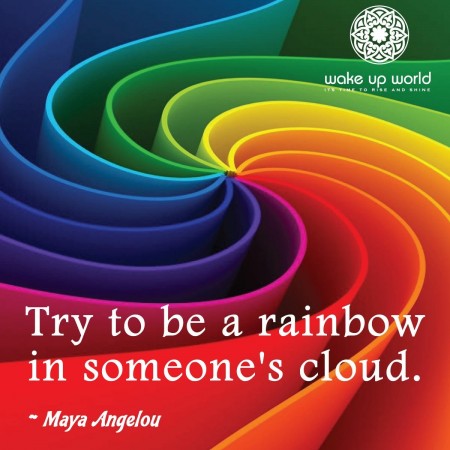 It reads:
Try to be a rainbow in someone's cloud.
This concept is incredibly helpful to me because I'm a selfish and self-involved person. Taking a moment to try to be nice to someone else, helps me get out of my head, my body and my selfishness enough to make things better for me. Helping other people is a GOOD thing for me.
It can be a two-edged sword, however.
Being a people-pleaser and trying to help others to the detriment of yourself is NOT a good thing. It's part of the disease for other people. It's called being codependent or an enabler. It can be draining on your pocketbook and psyche.
Knowing which is which is hard, sometimes. I spend so much time obsessing about myself that getting out of my own head and trying to think of ways that I can be of service to others HELPS me. It invigorates me instead of draining me. The inner spiral of self-obsession is what drains me and serving others gets me away from that.
Take a few moments with yourself and try to know what kind of person you are. Are you a people-pleaser, trying to make everyone except yourself happy? Are you a self-obsession junkie, spending too much time thinking about your own inner working? Being of service to others has been very helpful to me. Hopefully, it will be a tool of use for you as well.
Previous: It's Not Hunger. It's The FEAR of Being Hungry.
Next: Seven Habits That Keep You Strong

Leave a Reply
-