I understand some of this quote: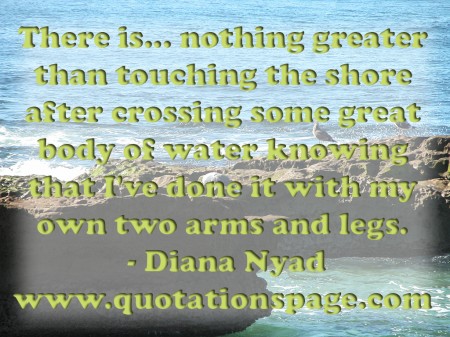 It reads:
There is… nothing greater than touching the shore after crossing some great body of water knowing that I've done it with my own two arms and legs.
I feel the same way about walking and riding my bike. I loved it when I rode my bike to work everyday because I was able to get myself to work without a car. I didn't depend on the bus or a functional vehicle. Even though I owned a car, I was able to get to work without it. And if the beast ever gave out on me, I'd STILL be able to get to work and bring home the bacon.
Independence.
Our bodies, when they are strong, give us a feeling of independence. We can do it. All we have to do is wake up a little earlier and we can get ourselves there. I think that's what Diana Nyad was talking about. Knowing that she could get across that water without needing a boat is a feeling of strength and independence. I've never felt that about water, because in Utah, we never have enough water that it's an impediment to where we're going, but I have CERTAINLY felt like that about my own two feet.
Previous: Judgment Is A Character Defect
Next: It's Not Hunger. It's The FEAR of Being Hungry.

Leave a Reply
-