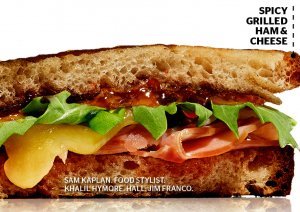 The last of the interesting Redbook recipes to spice up your boring sandwiches is this one.
Spicy Grilled Ham and Cheese
Ingredients:
1/2 country loaf, cut into 1/2 inch thick slices
4 Tbsp unsalted butter
1/4 cup red pepper jelly
1 lb. thinly sliced ham
1/2 lb. thinly sliced Guyere
1 cup baby arugula
Directions:
Spread butter on outside of each slice of bread and jelly on the inside.
Stack a few slices of ham and Gruyere on the jelly side of 4 of the bread slices, followed by a handful of arugula and remaining bread.
Place in a panini press (or in a cast-iron skillet over medium heat, turning once) until bread crips up and cheese begins to melt.
Nutrition Facts:
Makes 4 sandwiches. Each sandwich: 709 calories, 36g fat, 19g saturated fat, 44g protein, 4g fiber, 56g carbohydrates
Summing Up
This one makes me even angrier than the other two combined. There is SO much wrong with this recipe that it just boggles my mind that Redbook printed it.
Let's start with the bread. The first ingredient wants you to get (or bake) a country loaf of bread and slice it. Right there is going to be a deal breaker for any normal person thinking of making this sandwich. Hello, snooty Redbook chef, we have something in the flyover states called Texas Toast. THAT is what should have been the first ingredient on your list.
Next, red pepper jelly?! This is NOT a common ingredient. It's not something that you can find anywhere. I found it on Amazon, for eight bucks a jar, but as far as I can tell, this is the SOLE ingredient that changes this sandwich from a boring ham and cheese to a Spicy Ham and Cheese.
Finally, the chef assumes that you either own a panini press or a cast-iron skillet. Us flyover folks probably DO own a cast-iron skillet, but it's in the chuck box stored away in the camper. I ain't poppin' the tent trailer to get the cast iron skillet. This is how you should have said it, snooty chef, "Place the sandwich in your George Foreman Grill until the bread crisps and the cheese melts." THAT is an appliance that most of us still have sitting in the back of the cupboard somewhere.
After reading that complimentary issue of Redbook on my iPad, I now know that I definitely do NOT want to subscribe to Redbook. They might think they are writing that magazine for busy women all over the nation, but they are really just stuck in the New York publishing microcosm.
Previous: Redbook Interesting Sandwich Recipes: BLAST
Next: Running Is The Washing Machine of the Mind

Leave a Reply
-