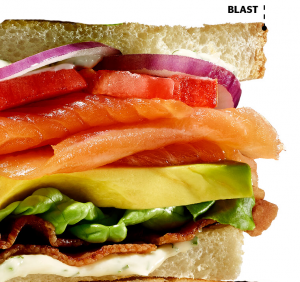 If you are sick of what you are typically eating for lunch, Redbook had some recipes that offered a twist on favorites.
BLAST (Bacon, Lettuce, Avocado, Salmon & Tomato)
Ingredients:
1/2 cup mayonnaise
1 Tbsp dill
1 Tbsp chopped chives
8 slices bread (pullman loaf, sliced 1/2 inch thick)
8 slices bacon, cooked
4 leaves romaine
1 avocado, pitted, sliced
8 slices lox (about 8oz)
1 large beefsteak tomato, sliced
1/2 small red onion, sliced
Directions:
Mix mayo with dill, chives and salt and pepper to taste and spread one Tbsp on each slice of bread.
Working with 4 slices of bread, layer on 2 bacon slices, 1 romain leaf, 2 avocado slices, 2 lox slices, 1 tomato slice, and 1 red onion slice.
Top with remaining 4 slices of bread.
Nutrition Facts:
Makes 4 sandwiches. Each sandwich: 524 calories, 36g fat, 7g saturated fat, 19g protein, 4g fiber, and 32g carbohydrates.
Summing Up
Dill and chives are yet another indication that a chef made this recipe, not a mom. Some people might have dill in their spice cabinet, but they certainly don't have fresh chives. CHIVES!! I don't think I've even SEEN chives in my grocery store for years. I'm sure they're there, in the hippie section with the overprice organic food, but chives are NEVER something that I just have lying around the house.
They are WORTH finding, however. Because the difference between a boring BLT and this sandwich are those irritating and hard to find items.
Lox, on the other hand, tells me that this chef lives in a BIG city like New York. Lox isn't something we normal folks can find anywhere. Since it's a big part of the BLAST (it's the Salmon), skipping it is going to change this sandwich from a BLAST to a boring BLT with avocado. It is obvious that the chef who created this sandwich hasn't walked into a grocery store in a flyover state in a LONG time. Lox is something we flyover states have to order from Amazon at forty bucks a pop.
Don't even get me started about the Pullman loaf bread sliced 1/2 inch thick. There is no normal, working woman on the earth that is willing to make bread and slice it thinly for her sandwich. Finding an interesting loaf of bread, like rye or pumpernickel, in your store might be a nice change of pace, though.
In the end, this isn't going to work for the BULK of the nation. I would think that Redbook would have more sense than to let this recipe end up in print.
Previous: Redbook Interesting Sandwich Recipes: Thai Tuna Salad
Next: Redbook Interesting Sandwich Recipes: Spicy Grilled Ham and Cheese

Leave a Reply
-