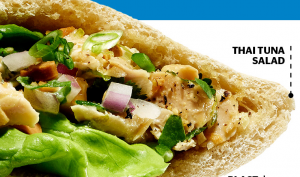 I was reading a free introductory issue of Redbook and they had some interesting sandwich recipes. I get sick of eating the same thing every day, so every once and a while, I need to pull up ideas for new food. Over the next three days, I'll post the recipes and my thoughts on them.
Thai Tuna Salad
Ingredients:
3 (5oz) cans water packed tuna, drained
1/2 small red onion, chopped
2 scallions, sliced diagonally
1 small jalapeño, some seeds removed, finely chopped.
2 tsp freshly grated ginger
1/4 cup cilantro, roughly chopped
1/4 cup roasted peanuts, roughly chopped
3/4 cup mayonnaise
1 tsp sesame oil
1 lime, juiced, zested
4 pita pockets
1 small head butter lettuce
Directions:
In a large bowl, combine tuna, onion, scallions, jalapeño, ginger, cilantro, and peanuts; season with salt and pepper to taste.
In a small bowl, whisk mayo, sesame oil, and lime juice and zest until smooth; fold into tuna.
Dividing evenly, spoon tuna mixture into pita pockets with leaves of lettuce.
Nutrition Facts:
Make 4 sandwiches. Each sandwich: 665 calories, 41g fat, 7g saturated fat, 34g protein, 4g fiber, 40g carbohydrates
Summing Up
Whenever I see scallions on an ingredient list, I know that I am dealing with a "chef" who doesn't understand the real world. They cook for a living. Getting scallions means that they walk into the huge, walk-in fridge and get some scallions. They are there all the time, just waiting to be used in their recipes, always fresh and available.
To normal human beings, things like fresh scallions, ginger and cilantro are EXPENSIVE ingredients that will be used for this ONE recipe. We have to go to the grocery store specifically for them. They aren't just lying around. It takes sincere EFFORT to get the ingredients for this recipe.
That said, if you are SICK of your tuna fish sandwich, it's worth it.
Scallions, red onions (as opposed to the yellow or white onions you probably have in your fridge), cilantro and ginger are the very things that will make this sandwich taste different than your boring old tuna fish sandwich. And the beauty of it all is that they make your tuna fish taste different without adding any additional calories.
The fact that the chef suggests whisking the mayo, sesame oil and lime in a separate bowl ALSO tells me how very out of touch the inventor of this recipe is. I'm sure there is some benefit to making sure those ingredients are thoroughly mixed before adding them to the tuna, but whatever benefit that might be, it's not going to even START to compete with the fact that it dirties ANOTHER bowl. To a chef, another dirty bowl isn't a big deal. They have people to clean the dishes, but to a REAL person, every dirty bowl is a bowl I have to clean. What the chef should have done is START with the mayo, oil and lime in the big bowl and whisk it. THEN, add the tuna and other ingredients. ONE bowl. Less cleanup.
In the end, this sounds like a great way to spice up and change a boring tuna fish sandwich into something that tastes interesting and worth eating.
Previous: To Lengthen Thy Life, Lessen Thy Meals
Next: Redbook Interesting Sandwich Recipes: BLAST

Leave a Reply
-