I saw this motivational poster on Facebook the other day and it really spoke to me.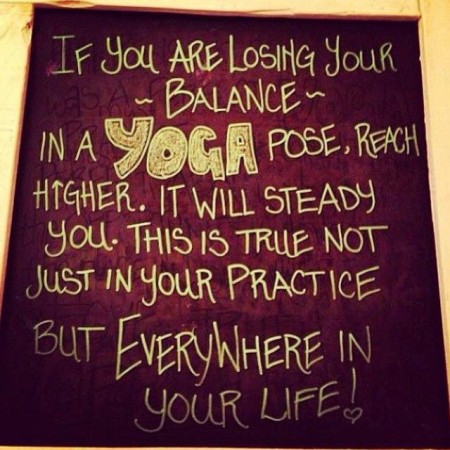 It reads:
If you are losing your balance in a yoga pose, reach higher. It will steady you. This is true, not just in your practice, but everywhere in your life!
This advice has helped me when I'm trying to hold a pose in yoga. I feel my body elongate and the pose has more length to balance, making it easier.
In life, I have constantly and vigorously reached higher. I don't know if it has helped me or not. Sometimes it seems that when I relax and let things happen naturally, they work out better than when I'm constantly striving. Perhaps I just don't know how to properly "reach higher" in life. Maybe it has less to do with pushing myself and more to do with making myself a better person.
Previous: Apple Watch Goals
Next: The Only Bad Workout You Had

Leave a Reply
-