I found this quote yesterday and it really seemed like a sad thing.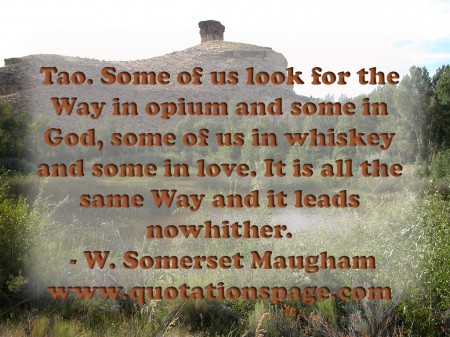 It reads:
Tao. Some of us look for the Way in opium and some in God, some of us in whiskey and some in love. It is all the same Way and it leads nowhither.
It's true that people look for Tao in many places where it is not. You will not find The Way in opium or other drugs. You will not find The Way in religion. You will not find The Way in alcohol. You will not find The Way with sex.
And I certainly did not find The Way in food.
Tao is an INNER JOURNEY. It is a mastery of our emotions and thoughts. It is a way of looking at life that allows you to see EVERYTHING at once, which is extremely difficult. Drugs, alcohol, sex and food only mask it and give us the illusion that we can see everything, until the end when they kill us. Religion gets a little closer, but so many religions are just tribal hatred with a pretty face.
I am not there yet. I have not found The Way, but I am certainly closer than I was when I used food to dull my senses and emotions. Instead of controlling and mastering my emotions, food just took them away. That sounded like a good thing to me at the time until I was drugged all day long, eating constantly and unable to do anything but eat.
Previous: Every Pose Is A Beginning
Next: Apple Watch Goals

Leave a Reply
-