I don't know where this image originally came from, but I saw it on Facebook and immediately loved it.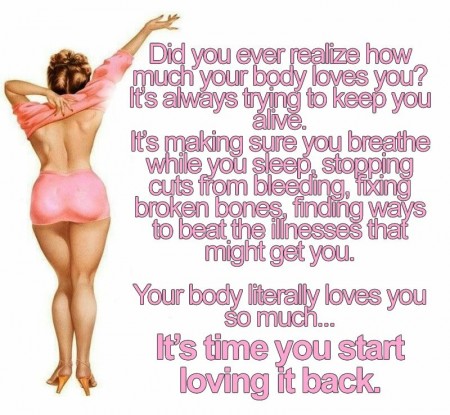 It reads:
Did you ever realize how much your body loves you? It's always trying to keep you alive.

It's making sure you breathe while you sleep, stopping cuts from bleeding, fixing broken bones, finding ways to beat the illness that might get you.

Your body literally love you so much…

It's time you start loving it back.
It's true. For an atheist like me, the miracle of a body that takes such good care of me is the closest thing I can imagine for a loving God. Imagine that your body is your higher power, doing its best to take care of your health and well-being. Its sole intent is to keep you living and thriving. EVERYTHING that it does is to keep you alive. If you are at a loss for imagining a higher power, you have your miraculous body right there to take its form.