This quote really spoke to me today: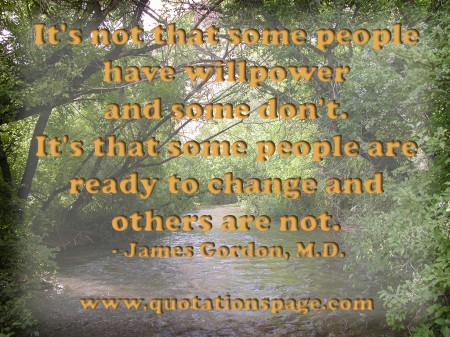 It reads:
It's not that some people have willpower and some don't. It's that some people are ready to change and others are not.
That day when I sat on the couch, eating all day and couldn't stop, I KNEW there was a problem with me. I told the story of what happened when I talked to Mike about it.
At that point, I knew that everything about the way I was doing things was OBVIOUSLY wrong because I wasn't able to lose weight. I wasn't even able to stop eating. I KNEW I had to change, I just didn't know how to change or even how I needed to change.
Thankfully, Overeater's Anonymous taught me how to change and in what ways I needed to change and honestly, it had little to do food and mostly to do with my attitude, my character defects and my emotional life. I felt completely lost in October of 2013 and now, my life has a direction that I never thought it would. I am so grateful to OA for helping me get my life AND my body back!
---
Overeater's Anonymous does not endorse anything on this entry or blog. I speak only of my personal experience and not for OA as a whole.
Previous: The Imitation of Those Whom We Cannot Resemble
Next: Google's im2calories: A Good Idea With Costly Execution

Leave a Reply
-