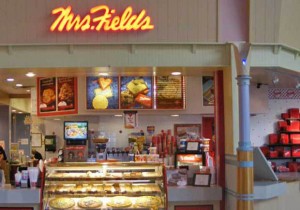 When I was a teenager, I loved Mrs. Field's Cookies. The walnut milk chocolate chip cookies were my favorite. I loved going to Valley Fair Mall in West Valley to eat them with my binge-buddy.
Lately, though, the cookies haven't tasted the same. They just don't taste as good as they did when I was a teenager. I kept eating them, trying to get that same flavor. I blamed the frozen cookie dough, so I tried making them on my own with the recipes I found that said they tasted "just like" Mrs. Fields, but they didn't taste right either.
What I was looking for is that first high.
We addicts will NEVER again experience that first high from food that we used to feel when we ate. It just takes more and more food or richer food to get even close to how it used to make us feel. Just like heroine addicts, we are searching for a high that we can NEVER get again. Unlike heroine addicts, it's very difficult to OD on food. We just end up getting fatter and fatter and eating ALL day long.
Knowing that food will never again make me feel like it used to make me feel really depressed me, but it has also helped me to prevent binges. My binge foods don't have as much attraction to me because I know that my brain is broken. I know they won't taste as good as they used to. I'm sad about that, but at the same time, accepting it is my only option if I don't want to eat myself into oblivion.
Two months ago, when we went to Cottonwood, AZ to camp, we passed through the North Rim of the Grand Canyon. There was a little shop there that sold cookies (and had gas and a bathroom). Mike asked if I wanted a bite of his cookie and I said yes. It tasted just like a Mrs. Fields Cookie used to taste and I KNEW that I couldn't eat any more or I'd have a binge. Ironically, it was some insane "loaded" cookie with a THICK layer of chocolate in the middle. Probably THREE times the sugar and fat that was in those original Mrs. Fields Cookies.
THAT'S what it now takes to get me to that first high: a diabetic coma in a cookie.
The only thing that ever helped me was Overeater's Anonymous. If it is taking more and more food to feel the same as you did when you were younger, you might have the same problem as I do. Get yourself to an Overeater's Anonymous meeting, tell the truth, get a sponsor and DO WHAT THEY SAY. There IS hope. It's just not in the form of a diet, workout or pill.
---
Overeater's Anonymous does not endorse anything on this entry or blog. I speak only of my personal experience and not for OA as a whole.
Image via:
Previous: Make Yourself HUMBLE
Next: The REAL Five Words We Should Stop Using When Talking About Food

Leave a Reply
-