The other day, I wrote this entry about old exercise machines:
The whole point of the entry is that exercise equipment hasn't changed much in the last fifty years. For the last fifty years, our population has only been getting FATTER, so don't bother buying any of those exercise machines that are available today because they won't help you.
After I wrote that entry, I promptly spent the next hour researching stretchy fitness bands on Amazon and YouTube. I found the best resistance band exercises video. It's short, simple and shows you the proper form for ten exercises.
I found an awesome printable poster for exercises for resistance bands from FitnessHealth.co.uk that you can just fold up and put in your traveling case.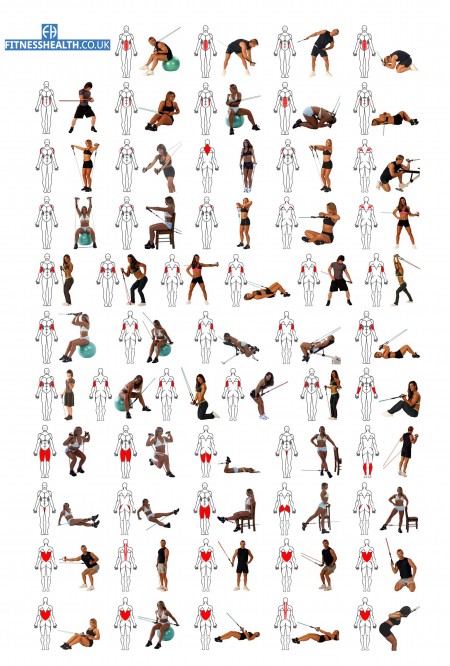 I had JUST written an article about how simple exercises like yoga and walking have helped me way more than intense exercises like weight training and running. I had just written an article about not letting the health and fitness industry steal your money and here I was SERIOUSLY considering dropping the thirty bucks to get this resistance band set: BalanceFrom Heavy Duty Premium Resistance Band Kit with Improved Safe Door Anchor, Ankle Strap and Carrying Case at Amazon.com. Despite the fact that I ALREADY own a resistance band set!
I realize now that my disease took over a little bit at that point.
The sad truth of the matter is: my eating disorder loves to fantasize about exercising. Ever since the age of ten, I was told that if I just exercised that I wouldn't be fat anymore. If I wasn't so lazy, I wouldn't be fat.
It was a lie I believed. It's a lie that I still catch myself believing, even though I know what has helped me and what has hindered me.
After YEARS of research on my own body, here is what I KNOW for a fact:
Weight training makes me binge
Running makes me binge
Skipping meals makes me binge
Stuffing down my feelings, instead of dealing with them in a healthy manner, makes me binge.
Yet, I'm still tempted to weight train, run, skip meals to "save calories for later," and just ignore my feelings. I keep catching myself thinking:
This time, I won't train so hard
This time, I will only run a little bit
This time I will be able to keep my food under control
This time my feelings aren't that big of a deal
"This time" isn't going to be like "last time." That is probably the biggest lie I say to myself: "This time, I'll be able to do it." Just like the alcoholic who tells himself that this time he will just have one drink.
My eating disorder loves to fantasize about exercise just as much as an alcoholic loves to fantasize about being able to drink moderately. It's a fantasy that I need to discard and accept the fact that exercise will not make me thin. It will just make me binge.
Previous: PostSecret: Take Off The Ring
Next: You Always Pass Failure on the Way to Success

Leave a Reply
-