This postcard from PostSecret was interesting.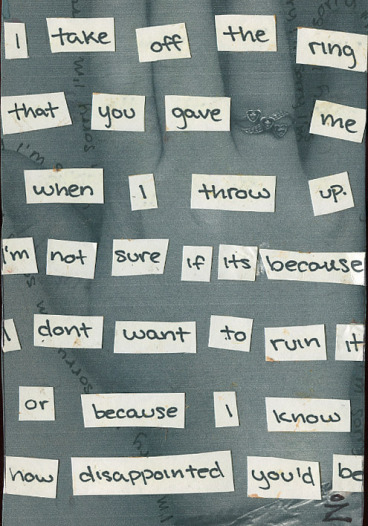 It reads:
I take off the ring that you gave me when I grow up. I'm not sure if it's because I don't want to ruin it or because I know how disappointed you'd be.
I was never able to throw up to rid myself of my binges. I wished that I could, but I could never really do it. It's just a different way my disease could have harmed me that never came to pass and I'm grateful.
The reason why we binge is because there is something wrong with our brains. The reason why we purge is because there is something wrong with our brains. Science hasn't entirely figured it out yet, but there is hope. Get yourself to Overeater's Anonymous and be entirely honest with yourself, your group and your sponsor. You don't have to take off the ring anymore…
---
PostSecret's beneficiary is the National Hopeline Network. It is a 24-hour hotline (1 (800) SUICIDE) for anyone who is thinking about suicide or knows someone who is considering it.
---
Overeater's Anonymous does not endorse anything on this entry or blog. I speak only of my personal experience and not for OA as a whole.
Previous: Old Exercise Machines from the 1979 Argos Catalogue
Next: My Eating Disorder Loves To Fantasize About Exercising

Leave a Reply
-