I love this quote from The Quotations Page: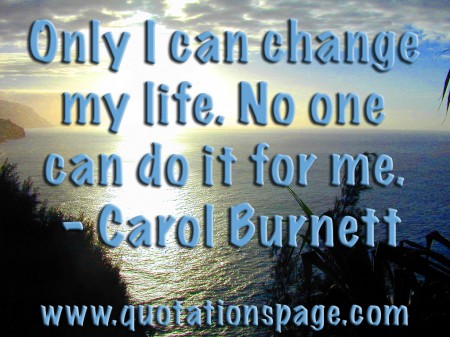 It reads:
Only I can change my life. No one can do it for me.
Every time I was tempted to have gastric bypass surgery, I remembered this. I could have a surgery to make my stomach tiny and if I don't change my behavior, I will literally KILL myself by bingeing and tearing open my tiny stomach. No one can change my life for me: not a doctor, a pill, an exercise guru or even a magic exercise machine can change me.
My biggest problem is that I didn't know HOW to change.
That's where Overeater's Anonymous and my sponsor helped me. Working through the twelve steps helped me to CHANGE. It gave me a whole new way of living. If you are feeling stuck, get yourself to Overeater's Anonymous, get a sponsor and do everything they say. They can't change your life, but they sure can show YOU how to change your life.
---
Overeater's Anonymous does not endorse anything on this entry or blog. I speak only of my personal experience and not for OA as a whole.
Previous: PostSecret: Pray To Get Anorexia
Next: Old Exercise Machines from the 1979 Argos Catalogue

Leave a Reply
-