I love this quote: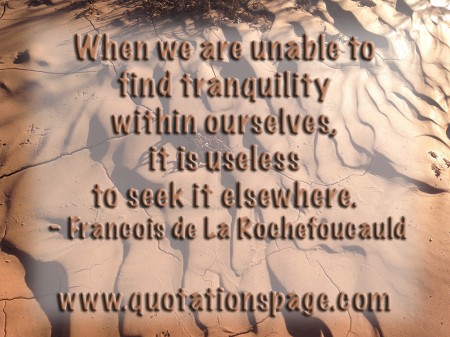 It reads:
When we are unable to find tranquility within ourselves, it is useless to seek it elsewhere.

Francois de La Rochefoucauld
The thing that has helped me refrain from eating the most has been that inner tranquility. I find it almost daily in a variety of ways:
Reading uplifting literature
Meditation
Talking to others who are suffering from eating disorders
Going to Overeater's Anonymous Meetings
Exercise
Petting my cat or dog
Listening to inspirational music
If you can give your brain a dose of those feel-good chemicals every day without eating, then you have learned the secret to living a healthy and happy life. Take some time today to get that dose of good feelings from something other than food.
---
Overeater's Anonymous does not endorse anything on this entry or blog. I speak only of my personal experience and not for OA as a whole.
Previous: Monday Music Motivation: Show Me Love
Next: Before and After 2015

Leave a Reply
-