This is one of those quotes that just makes me confused.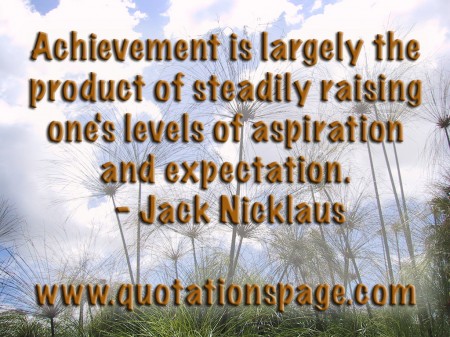 It reads:
Achievement is largely the product of steadily raising one's levels of aspiration and expectation.
I didn't know if I agreed with that, mostly because I didn't know what aspiration was. I thought that was breathing something into your lungs. I LITERALLY had to look it up.
a strong desire, longing, or aim; ambition
It wasn't until we got to the third definition that breathing came up.
So the quote is saying that as long as I hope and expect HARD enough, then I will achieve my goals.
Yeah, that's complete bullshit.
You kind of have to DO things to succeed. I hoped that I would get thin. I wished on every damn eyelash that fell out of my head. That never helped me get thinner.
I even EXPECTED to get thin. I spent hours visualizing a thinner me. I never lost one pound from all that visualization.
I think this quote is fundamentally WRONG. Expectation and aspiration might send your mind where your body needs to go, but you need to DO the things to make your body go. For example, for my hard training runs, I visualize being able to easily complete them, but then I actually get my butt on the treadmill and DO the workout. Expectation and aspiration can only take you so far. You need to do that work, too.
Previous: Butter in Coffee: You DO Know What Butter Is Made Of, Right?
Next: Remember The Compliments

Leave a Reply
-