I found this quote today and it made me feel better about the journal writing I do every day.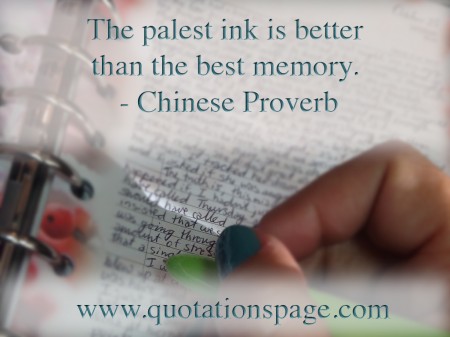 It reads:
The palest ink is better than the best memory.
I spend a half hour writing in my journal every day. I credit it with keeping me sane and it very well do that, but at the same time, I begrudge the time. In that thirty minutes, I could get my exercise done, or play video games or read. There are so many other things I could be doing in that time that don't feel like a chore.
But I have seen a marked correlation between my sane times and the times when I write in my journal faithfully. Oh, and it's great for keeping track of my life because I can turn back to that time and check my facts. That quotation is correct. The palest ink IS better than the best memory, because there are lots of times when I have remembered things incorrectly and my journal fixed it or proved me wrong.
If you have been struggling, try keeping a journal, not of your food, but of your emotions, history and thoughts. You might find that it's easier to keep eating sanely when your crazy ideas are out of your mind and on the paper.
Previous: The Color Run: Salt Lake City 08-22-15 Join My Team And Save Money!
Next: Hey, Wanna Get Baked?

Leave a Reply
-