Last weekend, I got my one year abstinence chip in my Overeater's Anonymous meeting.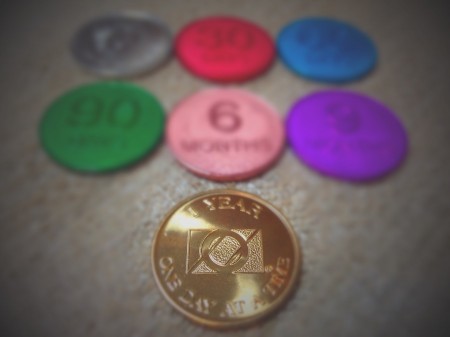 Before I came to OA, I had no hope. ZERO hope. I was managing my eating by counting the minutes between my alarms on my phone.
I had no hope for a cure for my brain, and honestly, there IS NO CURE for a broken brain. There is, however, a treatment and it takes everything you have to follow it. Fortunately, I haven't had to sweat has hard as I did in the past, but I did have to learn how to be humble.
In fact, just writing this entry makes me worried that I'm not being humble, but as a recovering binge-eater, it's my responsibility to share my hope, strength and experience.
In October 2013, I couldn't go more than an hour without bingeing. I would eat ALL DAY LONG and I felt hungry all the time. Now, I hold in my hand, a one year chip. It has been over a YEAR since I have binged. There is hope. If you thought that you would start the new year right and are disgusted with yourself because you just cannot follow your program, get yourself to an Overeater's Anonymous meeting.
---
Overeater's Anonymous does not endorse anything on this entry or blog. I speak only of my personal experience and not for OA as a whole.
Previous: This Time, Like All Times…
Next: This Is What You Miss

Leave a Reply
-