So much of recovery is dealing with the past. This quote seems to help me.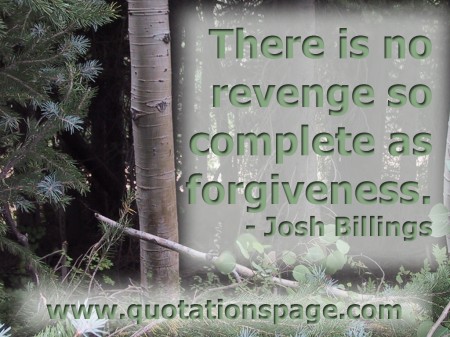 It reads:
There is no revenge so complete as forgiveness.
The only problem I have with this quote is the idea that revenge is important. Don't get me wrong. I like the idea of revenge. I can waste many hours of my life imagining what the perfect revenge is, but in the end, it is really just a waste of time.
I recently rewatched an episode of How I Met Your Mother from the 8th season called The Final Page.
In that episode, they talk about revenge and who you would put in your "Silence of the Lambs" pit if you had the chance. In the end, however, you learn that when you have those sorts of fantasies, the only person really in your "Silence of the Lambs" pit is yourself. And the only person who can free you, is you.
So, forgiveness really IS the true revenge. You need to forgive the people who have hurt you in your life, because if you don't, you're just going to stay down in that pit, hoping someone will throw you a line.
Previous: Issues That Are Holding You Back
Next: Keep Your Mind Even

Leave a Reply
-